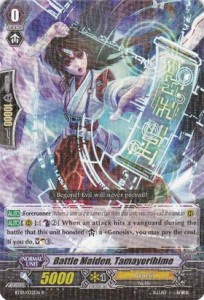 Genesis. A new magi-tech conglomerate forged from the Oracle Think Tank Corporation. This new clan sports an interesting mix between enchantments and technology with figures either showing modern (or futuristic) outfits, or harkening to times of mythological deities in Greek and Shinto. Much like the Dark Zone nation, and in particular Dark Irregulars, the Genesis clan focuses on greedy soulcharging to release it later. Think of it as an "economics" clan. You acquire capital investment into your soul, or stock. Then you sell it off for some kind of profit effect.
This clan begins with several starting vanguards, most of them clones of things we've already seen. They have a ride chain. They have Cluster Hamster, a 4000 Power unit that moves itself to the soul to draw a card only-if the boosted Limit Break unit hits a vanguard (that's quite a lot of conditions), and is overall lackluster, though this is the rare case where I wouldn't completely write-off one of these. If your vanguard is well-equipped for the burden of its low power, you can easily hit mid-game and get back the soul without losing advantage, kind of like a "free" soulcharge. The third starting vanguard is Tamayorihime (left). She can boost a unit that hits to allow you to convert 2 counterblast into 3 soul. As far as efficiency goes, this is about par since Soul Blast 3 does generally equal Counterblast 2 in skills.  This should be used wisely.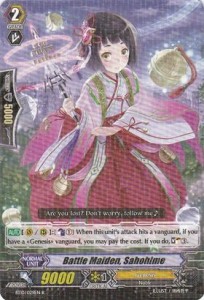 But there are other, better ways for Genesis to gain Soul currency.  In particular, I'm talking about Emblem Mas—er, Battle Maiden Sahohime. When she hits a vanguard, you can convert 1 Counterblast into 3 Soul. Much better.  The good thing is that in this clan, Soulblasting generally occurs in multiples of 3, so using these soulchargers like Sahohime and Tamayorihime all grant essentially a base 1 effect for later.  Obviously the currency conversion process itself does have some inherent risk, so your Mid-game should be rather focused on setting up no-win scenarios for your opponent with on-hit skills.
For completion sake, I should mention that Tatsutahime exists as a grade 1 7000 power unit identical in effect to Tamayorihime, complete with sub-Sahohime trade off. This does indeed increase pressure should you happen to make some column without an on-hit attacker present; at least you'll have a booster that can do the job you need in a pinch. However, even if a Sahohime can't hit, consider the opportunity cost of using your Tatsutahime over Broom Witch Caraway, who acts like a Kirara-clone in that she trades 2 Counterblast on-any-hit for 1 draw. But if you can guarantee the same counterblast in the form of Soul, goes toward +1 (it usually does) then don't worry about using Caraway.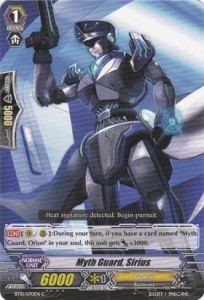 Mice Guards Orion and Sirius—and no that name doesn't make sense; apparently patrol the halls Robocop-style and gain Power. With all the soulcharging this clan can do, you should count on getting at least one of these two goons in your soul should you run maximum of both. Sirius (left) becomes a 9000 booster when Orion is in the soul. Orion becomes an 11000 attacker with Sirius in the soul, which is really lame. Actually since the only Grade 3s Genesis really wants to run are all Limit Break units, you're better off running the grade two unit that becomes 11000 for having a Limit Break vanguard (Witch of Owls Paprika). It's Sirius you really want, if any.
And to that effect, Sirius must be paired with something to accomplish anything. That logical pairing is to make 3 stages somehow. To do this, you need a 12,000 attacker or above. Thus, your best (only current) option is Witch of Wolves Saffron, but that combination ends up working out to be a less robust and more chance-reliant version of Royal Paladin's "Swan Soul" build; with it taking up a gigantic 12 spaces in your deck and on top of that, restricting which units you can soulblast. After all, you don't want Orion gone—putting Sirius back to a weak 6000 power.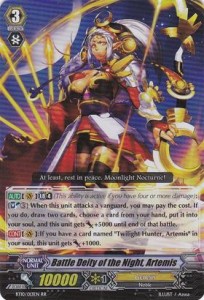 Genesis also has the Type-4 ride chain, Battle Deity of the Night Artemis. Starting with the Grade 3 herself, you get the normal ability of an 11000 Power defender when the grade two is in the soul (which does indeed restrict you from soul-blasting that unit if you want to keep your power). Artemis also has a limit break skill (who doesn't these days?) that costs a total of Soul Blast 3, so one chunk of soul, for the effect of Draw 2, then put 1 in Soul. Essentially a medium quality +1. This occurs only when she attacks, so you won't be able to use it more than once per turn.
Where it really gets interesting is that this ride chain grade 3 copies the Oracle Think Tank sister-version of their ride chain: Full Moon Tsukuyomi (Artemis was also goddess of the Moon and hunt). The copy isn't quite as full, though. It's actually true that Artemis costs the same in conversion, since most of your 3-chunk soul in this clan will come from counterblast 2, which is the exact cost to activate Tsukuyomi once. But Tsukuyomi is ACT and capable of being used twice in one turn, rather than waiting until the next turn and Full Moon doesn't need to wait until only Late game to use this skill. She can use it whenever it's most needed (such as mid-game for setup) or to reach a deck loop. I suppose here is where I should say Artemis is easily usable 3 times per game, sometimes 4 if you're fortunate, but most games I only get to use her twice before it ends. To this effect, she's really good, just a bit slow, so be aware of this. The other upside is that she gets +5000 Power for a total of 3 stages on your center column. This is something only useful in late game, so it's nice that's when we get it.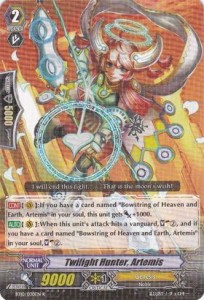 The ride chain works just like any typical Type 4. It has a 35% total chance to chain every piece, though it doesn't grant a bonus for chaining the 2 to the 3 directly (to acquiesce Break Rides), so really only up to the grade 2 is necessary, which is a 43% chance. The grade two Artemis is capable of Soulcharging 2 when you hit a vanguard. Since you know that her being a vanguard in early game almost guarantees this, you can safely count these chickens before they hatch. The bonus you get for chaining on top of the grade one is an additional soul of 2, for a total of 4.
This is quite a nice bonus when the deck particularly runs on soul. With the chain from 0 to 2 in your soul, you'll get 3 as it is, and then the bonus from her hit effect gives you 7 total. You're already at two "chunks" of Genesis skills, and with only 2 more soul, you'll be at three chunks. During testing 9 soul was almost always the bare minimum I would get in a given game—or three usable chunks. 12 was fairly common as well when there were a lot of soul shennanigans going on. In approximately 2/5 games, you'll get the nice 7 soul start-off to Mid game, and in 7/10 of games, you'll at least get 5 soul (since getting at least the grade two of a Type 4 chain is ~70%). At even that poor-case scenario, you can call a Witch of Cats Cumin for +1 soul and use one of your chunk-chargers for the remaining soul that gets you your 3 chunks for that game. For now, Genesis is situated enough on 3-chunks that it's worth running the ride chain up to grade two even in non-Battle Deity decks. Especially when the chance of 2 soulcharge for free is staggeringly high with 4 being a good possibility (even since the first two come before the next conditional, and you can soulcharge in early game for more chances).  In the rare 3/10 games where you don't get the chain, you can at least be reasonably confident that you will ride Sahohime which is essentially a guaranteed chunk right there, including keeping the initial Artemis in your soul and your grade 1, that's 2 chunks by grade 3. You're almost always going to have around 2 chunks by midgame.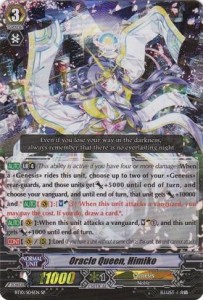 Oracle Queen Himiko is the first Genesis Break Ride unit and in addition to the normal skill of gaining +2 stages to your new vanguard, she also grants it a skill. When that unit attacks, you can pay a chunk (soulblast 3) to draw a card, but also during the ride itself, you get to add +1 stage to any two Genesis rear-guards. Like a 2/3 Soul Saver Dragon or Riviere (that stops the initial minus of either). This is a quite interesting skill since it means you'll be attacking for 3/5/3 during that turn in late game, which can be quite mean.
Especially with so many units being on-hit skills, you now have an easy opportunity to get any last-minute soul in before you start cashing in on them. The draw 1 effect is pretty typical of a chunk; though it's pretty inferior to Artemis, she stacks well with this as a 2 chunk for +2. Not bad when you're twin driving and drawing 2 in Late Game. This is highly similar to Ildona's defensive gambit except without two total minuses for wash! Though it must be said, Ildona isn't strictly topped since he can repeat it next turn…
Additionally, and probably most importantly, is the ability for Himiko to actually do something during most of the game. That something is soulcharge and gain +1000 power each turn during her attack. This is quite useful for evening out chunks, gaining another one you may not have gotten; and the power makes even the ride chain's initial booster a proper unit so long as Himiko is out (and by the time you Break Ride, your power will be so insane, it won't even matter).
I've saved my personal favorite for the last of BT-10′s stock. Eternal Goddess Iwanagahime is just one of those cards you don't fuck with. For two chunks, soulblast 6, she can retire all the opponent's front-row rear-guards at late game. As an ACT. Remind you of something vaguely vermilion in color? Interestingly, going by the soul metric of 1 Counter = 1.5 Soul found throughout Vanguard (therefore 2 Counter = 3 soul, or 4 counter = 6 soul), Iwa is technically overcosted. Why, then, is she so ass-destroyingly easy to use? Because Genesis soulcharges insanely high.
I did mention 9 is about the minimum most games will see with 12 being an attainable maximum. This means Iwanagahime can easily activate her skill with leg-room to spare. In addition, her other skill allows Soulblast 3 (one chunk) for +5000 Power that turn. If you save this for late game and use both ACTs in one turn, there's your 9 soul in the form of Vermillion Kaiser and 3 stage center lane. But on top of that, you get 5 counterblast, which Vermillion does not get as a bonus. If you were able to play things rather safely with your counterblast usage, you might be able to draw 1 card or 2 with Caraway. It's interesting to note that Iwanagahime has a second out that's even better: When she's break ridden over Himiko, the field becomes the normal 3/5/3, yes. But since she doesn't need the vanguard power anymore, you can just nuke the opponent's field and draw 1 during attack. If you then draw 1 from Caraway, you're looking at +4 per game. Iwanagahime is a scary card that acts like her pal Vermillion, which is no doubt why she's quite effective. It's true that you could technically use Iwa twice in one game, though it's less often than you think. Sure as hell not due to lack of soul (you can get 12 quite un-rarely) but more due to the lack of the opponent's ability to refresh both attacking slots in late game before you kill them. This does indeed work both offensively and defensively, so pay attention to intercept shield versus your break-ridden 3/5/3 to see if you can get an instant win after your nuke.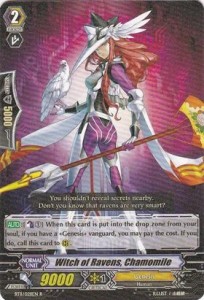 Witch of Birds, Chamomile and her grade one clone, Witch of Frogs Melissa kick off your soul with some amazing support. These two units can counterblast 1 when put into the drop from your soul, then call themselves to a rear-guard position. Very simple skill and very effective. Just at a blank reading, these skills are each +1 for counterblast 1, which is an amazing 1:1 ratio of efficiency in resource use. Effectively, if you have both in your soul, you gain a free column. Though getting them into the soul can be chance reliant, Genesis doesn't typically have any trouble in testing. Since they soulcharge 3 at a given time, (and typically do this 3 times per game, plus some extra) you have an ~87% chance to get just one in the soul per game. Numbers dump time!
-Chance to soulcharge at least 1, per game: ~87%
-Chance to soulcharge at least 2, per game: ~53.6%
-Chance to soulcharge one of each, per game: ~35.5%
There's a damn good chance you'll get what you need at least, and a decent chance of getting them into the soul as a one-of each. However, Genesis is not restricted merely to the soulcharge mechanic to get units into the soul. As we've done in Pale Moon and other clans, riding is an easy way to get units into the soul. Here's another numbers dump:
-Chance of riding the grade 1: ~56%-Chance of riding the grade 2: ~59.8%
-Chance of riding both: ~33.5%
Put it all together. Let's find the chance of soulcharging a column of these or the chance of riding them both. [Use the or formula: (A+B) - (A*B) ].
-Chance of soulcharging or riding one of each grade: ~57%
As you can see, getting what you need into the soul won't be a big deal. Half of games (with normal soulcharging and riding combined) will land you a column when these two die, and far more will get you either two boosters or two attackers. Since those soulcharges were calculated for late game, it stands to reason that's when they're more than likely going to be used. Especially since Genesis currently lacks a way to convert their soul outside of limit break. In that case, it should be noted that Melissa might not always be as useful as Chamomile since generally your boosters stay intact all game (unless you were hurting for boosters to begin with). Even given this, she is still very useful for recovery from sniping so don't take Melissa out. Even if retiring isn't in your meta, the combined chances that you get sacked to four damage before you can fill your field, or you just didn't get enough boosters (common since boosters are at a low ratio to attackers) she'll come in handy.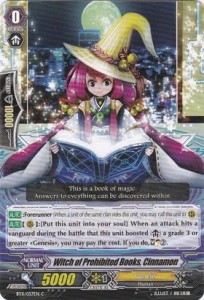 Witch of Forbidden Books, Cinnamon is a Genesis starting vanguard that allows us to soulcharge 2. To do so, you need to place her into the soul when she boosts a grade three Genesis and that unit hits. Obviously, hitting with a vanguard isn't too much of a problem (nor a grade three for that matter), but she does restrict herself to being a vanguard-only booster, so if you drew excess 11000 Power units into your hand, Cinnamon won't help you get a nice rear-guard column unless you want to abandon her skill. The skill itself actually gives 3 soul, or a whole chunk. With the major difference to our other starters being that she minuses herself.
If you create a chunk and then you take a -1, but most chunks later in the game give a +1, didn't you just go through all the trouble of generating 3 soul for a +0 wash? That seems rather wasteful. Granted that your conversion is versatile, but with options in the deck that can generate that soul strictly at no minus loss to you, why take the opportunity cost? The opportunity cost of using those counterblast 2 elsewhere isn't very high. The rest of Genesis can only gain +1 from any given counterblast 2, with the exceptions of the Witches above, and I did point out that getting both relies a bit on chance and good timing, combined with hoping you have slots open. Counterblast isn't really a worry in Genesis so don't sweat converting it into soul. That soul leads to some pretty powerful skills that gain advantage.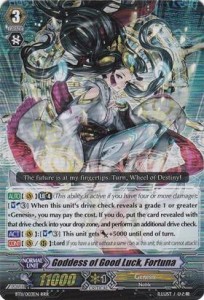 Goddess of Good Luck, Fortuna harkens back to the Oracle Think Tank gimmick of hating chance. Of course she has a soulblast 3 for +5000 Power skill, but that's not really all that useful on a Vanguard so let's look at her chance-hate: When she drive checks a grade 1+ Genesis, you can soulblast a chunk and drop that unit to drive check again. So naturally the first thing you notice is that Fortuna is a +0 wash for a chunk, which is pretty unusual in Genesis as most of our vanguards can get a +1 per chunk. Instead, she relies (assumedly) on the trigger check for +5000 Power to a rear-guard and some other skill, which is virtually like a +1 in most instances.
The important part is of course if whether or not she's bringing anything to the table. Recall CEO Amaterasu who I noted uses her Divination skill to check the top, and uses a conditional branch to place non-triggers at the bottom and triggers at the top. CEO therefore does something virtually identical to a Tri-Drive but with no possibility for 3 triggers. Both increasing the chance for 1 trigger (~70%) and two triggers. If you look at Fortuna closely, you may notice something similar. Since getting her skill means any of your Twin Drive not revealing a grade 0 essentially (unless you're the kind who runs extra), then you'll notice that under a single activation she too cannot get 3 triggers but does increase the chances of 1 or 2. In fact, she increases the chance to roughly 70% for one trigger. That's quite interesting because that's essentially CEO Amaterasu for one turn and for a cost (virtually the same as counterblast 1).
Unfortunately, while it does increase your drive check probability by about a flat 20%, it doesn't directly translate into a +1. In fact, setting all things equal between CEO and Fortuna, it boils down to (ignoring Twin Drive since both have it) +0.2 in advantage (expected value of 20% of 1), for one turn, for a cost of what should be +1. Ouch, that's not very kind. Not even an 11000 Power defense can really make up for that, especially when she's limited strictly to late game where CEO can be used in midgame. Of course you can use Fortuna again when you fail but you just get diminishing returns. Now you're at around +0.4-5 for what should be +2, in other words she's about 1/5 to 1/4 as efficient as she has to be to keep up with her cost. (Incidentally, the probability that she gets 1-2 triggers using the skill twice is the same as Quadra Check, described in The End's section in the Kagero article.) Contrast with Iwanagahime who gets a strict +2 for soulblast 6—exactly what should happen. Being an offensive type of skill doesn't really change anything (going for game based on chance? No thanks). With only one activation, she's a super inefficient CEO, and with two activations, you're better off playing Iwanagahime. It's really unfortunate too (puns) because her art is amazing.
So with that, let's move on to the decklist.
Derezzed (Iwa/Himi)
Grade 0:
17
1 Battle Maiden, Tamayorihime. Starting Vanguard. Works as a nice converter of our excess counterblast into soul. This gets our Witches into the soul and powers Iwa.
4 Battle Maiden, Kukurihime. Critical Trigger.
4 Cyber Tiger. Critical Trigger.
4 Bandit Danny. Draw Trigger.
4 Large Pot Witch Laurie. Heal Trigger.
Grade 1: 14
4 Unyielding Goddess, Kushinada. Staple perfect guard.
4 Witch of Frogs, Melissa. Efficient advantage engine, though with the caveat you might not have space by the time she's used. Try to ride her.
4 Witch of Cats Cumin. On-call soulcharge 1. Pretty much staple.
2 Battle Maiden, Tatsutahime. Mihikarihime and Existence Angel also acceptable here, though I'm not sure if we're getting that promo yet. If not, it's just kind of a random 7k slot since the starter does the same thing and probably won't get sniped away.
Grade 2: 11
4 Witch of Birds, Chamomile. Highly efficient advantage engine. Try to ride this unit.
4 Battle Maiden Sahohime. Non-negotiable staple required to make the deck function. If you can't ride Artemis by turn 2, ride this. Excellent cost to benefit ratio that easily frees up more space for Caraway.
3 Broom Witch Caraway. One method of gaining advantage when soul is no longer needed (or able to be gotten due to guards). Becomes less important to activate if Night Artemis is used since it's slightly less quality.
Grade 3: 8

4 Eternal Goddess Himiko. Okay this deck is kind of weird. Essentially pick one set of grade threes on either side of the slash and roll with it. The best in testing was Himiko+Iwa, but Himiko+Artemis was nice too (though slow). Art+Iwa works nicely due to having options but doesn't get the same efficacy overall especially if you ride-over one. If Iwa is used with Himiko, you should have 3/5/3 with a nuked field that turn and negated ride minus for defense next turn (which compounds due to the defensive nature of Iwa's retires). If you use it with Artemis, it's also defensive in that your 2 chunks go toward hand shielding similar to a one turn Ildona but with an offensive field during that turn. The idea of this gambit, whichever you choose, is to massively widen the gap between you and your opponent's shielding by going with a strong offensive and then turtling up immediately after. Both of these amount to a wide gap.
4 Eternal Goddess Iwanagahime. You get a more direct advantage engine all at once with no waiting and the bonus of guaranteed 11k defense and rear-guards, which is always nice (especially if you have some draw triggers as emergency boosters). In testing, Iwa usually did better than Artemis and it was usable offensively as well, though Artemis is still legitimate for prolonged games. Mostly since her chain isn't worth running as of Set 11, Iwanagahime fits a better bill. In-all, this deck is used similarly to how you'd use Vermillion break riding over Liberator Gancelot.
Estimated Deck Cost: ???
Closing Notes: Genesis has an annoying launch since they have to wait so much longer than initially expected. On launch they still don't really have too much choice, though thankfully they'll be competitive right out of the bag if properly built. They do have a serious problem of lacking any real wiggle room with their units, mostly due to lack of choice but also because the units are all like clockwork. Having only a few cards out of place could throw the deck out of whack. One thing I've noticed when playing with Genesis are that there will be games where you just kind of take what you can and you can't really play optimally. Though they usually do win or come close when they do play optimally. On a personal note, I wish that converting counterblast into soul gave you a premium on the eventual soulblast skills for the time it takes and the trouble of going to that effort (since things can fail or requirements can be based on chance if only slightly).
94 Comments