Hey there, card gamers. Most of you reading this article right now probably have many accessories to protect your cards and keep them organized. Some of you may be new to card gaming and not know exactly what you need. Whichever the case may be, I think everyone can agree that protecting and organizing your cards is essential. Card gaming is like an investment. You buy the card, and your return on that investment is some combination of fun playing and money you get back after trading or selling it. Sometimes one…more than the other. To protect that investment, personalize it with neat designs, or make a more comfortable and smooth experience, you use TCG Supplies. Even veteran gamers may not always know the best stuff, and may not know everything there is to know about the products they commonly use.
I've been a card gamer for well-over a decade now and I can say with a degree of certainty that I've sampled many products. Obviously, the quality of those products and companies will change over time so I'm here to give the most recent appraisal I can in each area of gaming supplies. These will therefore, be my opinions based mostly on lots of experience with many different brands over time. As such, my opinions can and probably will be wrong. Just as I've had many people tell me one brand is amazing and my only experience with them has been shit, some of the brands I've had great experience with, others have gotten a raw deal. But I'd like to think this can be at least somewhat based on fact and objectivity. Before we start, I'd like to mention that the links I give below to the products are to Amazon.com. The reason for this (aside from often getting free shipping :D and cheaper prices some of the time) is because I'm an Amazon Associate and therefore make commission and raise my rate each time someone buys from my links. So feel free to do that or not, whichever you want. They're present for convenience.
Playmats
Starting off with what will protect your cards and hands from the dirty or rough tables you'll be playing on. Playmats are generally used for three key factors: comfort of the player (they're soft), protecting the cards or sleeves from scratches, and protecting the player, the cards, and the sleeves from dirt or other shit that's likely to be on surfaces. So obviously, you want to try and maximize all three experiences for the lowest possible price (in economic terms: min-maxing). There's also an element of flair that you can add with various designs, and you'll often pay a premium for them depending on the saturation of the inkjob.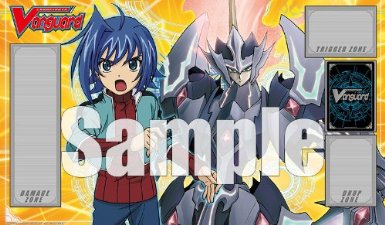 These actually come in two general varieties. The original Bushiroad mats were produced (assumedly) by an in-house company or a company Bushiroad trusted in Asia to handle their printing.
These mats come in all sorts of prints, some of which are really nicely done (like the gold and silver blaster blade mats), but some are a design nightmare which combine the busy vanguard circles with overlayed art. Disgusting. Above, we have one of the better examples, at least from a design perspective. What's unfortunate about all of these mats is that despite being official, most of them are simply a thin piece of cloth. This is not the norm for high-quality gaming gear. However, the Majesty Lord Blaster mat
was the first bushiroad rubber mat as well, which probably makes it the first Bushiroad mat actually worth a damn. Designs don't mean anything if your mat slips and slides and is too small to hold everything.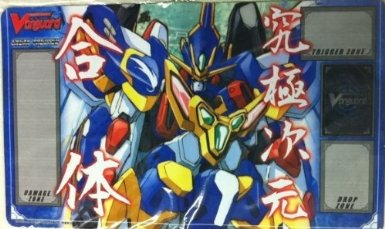 Since the Majesty mat, Bushiroad has created much better rubber-backed mats that aren't design nightmares. Ultimate Dimension Robo Great Daiyusha mat
is quite a masterpiece, for example.
The front of most mats should be polyester cloth material (like mouspads) and the back should be open cell foam rubber, again like mousepads. If you have closed-cell foam, then it's hard and slips around because it can't grip. The materials used in mats make them easy to clean with a simple wet rag (on either side) and safe to wash. Bushiroad stepping up to these standards was definitely a foot in the right door.
…And then they paired up with UltraPro. Now, I don't care what you think of UP or their Bushiroad mats, but the Ultra Pro Cardfight Circles mat
pictured on the left is a design travesty. It's definitely bigger than the usual Bushiroad mats, but the size is actually the standard 23.5″x13.5″ inches for playmats. The issue is the wreck of an over-crowded cramped design this ugly thing has. Feel free to click the image for full view of the gory details.
However, just as all of the UP mats are overcrowded (often combining completely different art even, from different styles and contexts), the mats are of pretty high quality. They definitely rival or exceed the quality of the new rubber Bushiroad Japanese mats, and both are the same price, around $15-20 depending on where you look. That's pretty nice considering fully inked mats are normally $20-30 (the Daiyusha mat is $30, probably because it's limited edition). So if you want something that is official, relatively cheap for inked mats, and will be allowed for use in tournaments, go with Bushiroad or Ultra Pro. Bear in mind that any unofficial Vanguard mats (that use the logo, circles, or characters) are forbidden from tournaments, so these are your best bet if you want an official design Just remember that Ultra Pro cannot stop itself from branding every goddamn thing in existence.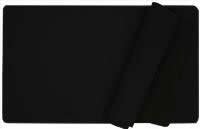 But official mats aren't the only kind. If you don't like designs, don't like the expense of inked mats, don't want them cracking or fading, or just don't like that many unofficial mats with designs are poor quality, you can always grab something plain!
I've mentioned that the standard for high quality mats is a closed-cell foam rubber bottom and a soft cloth top at around 23 inches by 13 inches; they're also 1/16 inch thickness.That's about the standard for most gaming supply mats of any worth. You can actually get these in plain colors very cheaply. Usually around $10  per mat, but Amazon has them for around $8. The black plain mat
on the right and white plain mat
(not pictured) are the two most common colors, but you can find others if you search around. Bear in mind brighter colors can be just as distracting as designs and tend to look dirtier than black unless you clean them often. Deck Prot also makes some plain-ish mats but they're terrible quality just like everything else they make. Below I'll also list some plain mats that come with tubes (but total $13 instead because of the carrying tube cost).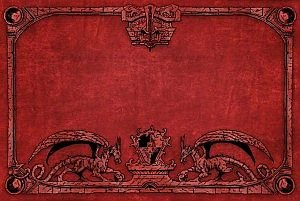 The last mat type I want to talk about are Dragon Shields. As is par for the course with Dragon Shield products, these mats are high quality and heavy duty. They support all the standard sizes and are oddly similar to the Ultra Pro mats, though with two noticable differences: price and design. They're moderately cheaper than the UP mats (at least on Amazon), being around $10-11 for an inked mat! That's pretty nice just by itself.
Their second difference is that while Dragon Shield don't sport any official designs, their mats are at least well-designed in a general sense. So if you are a fan of the frame and the weathered velvet look, I'd say go with them. This is kind of the ultimate compromise between quality and price. Really the only reason I could see not getting these over the plain mats is if you just don't like designs, want to save about $2, or really really like black (I know I do). If you do decide to pick these up, they have Red mats, Green mats, and Blue mats so far as I can find. I'll feature each below:
Deck Boxes
Next, let's talk about deck boxes. There are actually many designs for deck boxes but the two most common are single deck and double-deck. You might have seen the dual-deck boxes if you're a Magic the Gathering player (which support the Elder Dragon Highlander format with its huge decks). Vanguard lacks a side deck and only has 50 cards, so single deck boxes should be fine for tournaments. But…most people don't build one deck per game. So if you want all your stuff in one place, you should also consider the dual-deck boxes which come with dividers.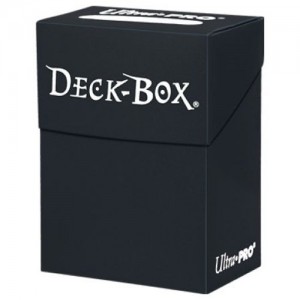 Starting with single size boxes, these usually hold 60 or so standard sized sleeve cards. Vanguard are actually mini sized cards, so you can probably fit a few more in there but don't count on getting more than one deck in a single box (sleeved). They're made of thin, cheap plastic material that bows outward fairly harshly and over time. Be careful to store them without too much pressure unless you want them to bow out.
The finish is a nice matte texture but the obnoxious Ultra Pro logo they put on everything (as well as the other print) chips and fades off, leaving the deck box fairly ugly over time. The upside to these boxes is they're compact and cheap. About $3 a piece, so if you just need a theme color for your one competitive deck, these can be a nice solution. Be warned that they won't protect your cards much from shock damage, as the plastic will just snap or warp and your cards will take the hit. The boxes have no fastening. The lid is deep enough down that it won't just open on its own, but if you turn it upside down and give it a shake, your stuff will fall out. Fair warning to double sleevers: these won't accomodate your decks! For that you want the oversized "Pro" series (yeah apparently Ultra Pro thought that it wouldn't be confusing to brand one of their products "Pro").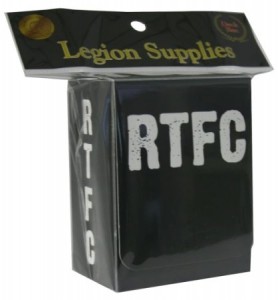 But Ultra Pro is not all there is (despite what they, and many TCG players would have you believe). Legion Supplies are consistently top in quality across the board, pretty much no matter what they make. You might expect this to come at a premium, but in fact their single deck boxes are $5, similar to the price of Ultra Pro. They include fasteners, which UP boxes do not, and therefore are secure no matter which way they're pointing. The plastic is very durable, fairly thick and high quality, though it doesn't absorb much shock, so you should still be careful. They definitely feel almost silky, some of them like teflon, so you can feel their quality.
Legion deck boxes also include a deck divider, presumably for games that have sideboards. While Vanguard doesn't have these, it's still nice to have a divider in case you want to use your extra room for storing spare sleeves (extremely recommended). I would say the one downside to Legion products is that they all sport some design, usually something really dumb in my opinion. Pic to the right is my one of the least-dumb designs: Read The Fucking Card.
This brings me to dual-boxes! These things are great and many TCG suppliers actually just make their boxes straight into dual-boxes simply because of the demand for them. Ultra Pro largely dominates the single-deckbox market, probably because of the inexpensive nature of their products. But when it comes to dual-boxes, nothing I've come across beats Monster. Well, nothing not branded with "Magic the Gathering" or "Yugioh" anyway. Monster typically has good-to-great quality products, though some of the designs may seem questionable at first. I know I wasn't too fond of the flimsy-looking plastic wrap assembly pictured left.
However the actual products themselves perform fantastically. It may be the extra layers of plastic inherent to the design or a better material, but these rarely break or bend, and can absorb far more shock (my hypothesis is that the size combined with their assembly disperses the force better). They also have the greatest thing ever: magnetic fastening. Velcro is nice too but when you don't want that annoyingly loud rip sound, you go for magnetic. Plus those automatically "close" themselves when you allow the flap to rest, due to their weight and magnetic force. They feature two deck sized boxes inside with 80 sized compartments each. That's at least enough for two vanguard decks sleeved, and some room for spare sleeves leftover. If you're a double-sleever, these might accommodate you if your sleeves are thin enough, though don't count on it. I wasn't too fond of the finish texture, which is smooth glossy with a diagonal ribbing; but that's just because I prefer matte overall. I will say that the material they chose allowed for much more vibrant (read: better) colors than the equivalent UP boxes. They're $15 normally, but $12 on Amazon, or double the price of the UP boxes. This is the kind of box you buy for a more long-term basis. Since the UP dual boxes are much weaker and flimsy (like their single box forms), I can only recommend them in the event that you want to save some money since they are $6.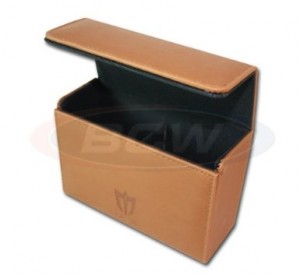 Max Protection are not known for making high quality products, which is why, up until now, I haven't even bothered mentioning them (or Dek Prot, or just about anyone else). However, I have to say that as far as leather-like deck boxes go, the Max versions are pretty good. They're very solid and durable, exactly what you'd expect from actual leather, and they feel nice. It's double layered for thickness and absorbs shock like nobody's business. The inside is roomy and fits 2 vanguard decks and extra sleeves easily, and has a nice quality divider. It's also wrapped in fabric that doesn't create static with sleeves and has a magnetic fastener.
It's not all roses however. These run you $20 for the double size and $12 for the single size. The sewing on them can be inconsistent on some copies, so beware of defects that allow some material to peek through. The cardboard inside them is a bit rigid and freaks you out when you open it because it sounds like it's cracking (which might deteriorate over the course of 2 or more years of use). And the magnet for the closure is rather weak, so it doesn't snap closed like Monster; you have to kind of let it rest there half a minute for it to be fully secured. Order-specific defects aside, I'd say these are really nice, though only worth it if you don't mind paying at a premium.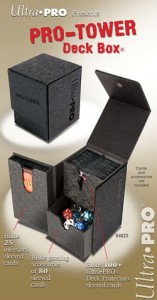 One last box to look at. THE MOTHERFUCKING ULTRA PRO-TOWER
. Major Arcana XVI fucking Tower. This thing is quite a beast and while it's mostly geared for general gaming and Magic the Gathering, I can't help but love it. It's made of very thick and sturdy plastic, on par with Legion (though lighter, so not quite as durable), with an actual fastener, an inner "door" that can hold your spare sleeves or notepad/calculator, a bottom drawer for 80 sleeved cards, extra sleeves, or counters and dice, and a top drawer for 100 sleeved cards (or 2 vanguard decks). You can easily carry around 3 vanguard decks, extra sleeves, a die for deciding who goes first, and counters for marking effects all in one box.
You can see why I like this thing, now. It's a bit chunky and oblong though, so if you don't need to store all of this or you don't need to carry around 3 decks in one container, you should probably look elsewhere. It's ability to absorb shock is much much better, probably due to the design itself, but no doubt helped by the materials. All of this awesome does come at a premium though—$20, so this is not for someone who just takes the essentials into play. Overall, I'd say Monster double-deck boxes give the best quality for price ratio and the Pro Tower gives the most storage, though the Max Protection leathers do come close and are of similar price. Unless you just hate carrying around a dual-deck box, the Ultra Pro singles are a bit old-hat. If you must go with singles, give Legion a shot first.
Card Albums
Albums and binders are a bit tricky. There are multiple things you have to consider when buying them, not the least of which is price, since albums tend to be more expensive than any of the above. Generally, the main features you want are lots of storage, anti-theft if possible, durability, and tight loaders so cards don't slip.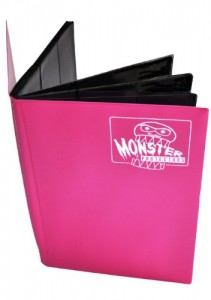 What you first have to decide is what combination of features you're willing to accept at what price. I would say that the most important feature of a binder is where it loads cards. Top-loaders are very common and very cheap. However, if your binder is turned upside down? Say good-bye to everything on the top row. For that reason, many card albums are now lined with side-loaders. Even smarter, they change which side they load on depending on where it is. So the sleeves next to the spine load away from it, so they don't fall into the spine and get bent. The ones on the edges load inward, so they don't fall out if you hold the binder down. Well-designed binders like these Monsters, will be made so that you can hold them in any direction and cards won't fall.
What else is nice is that they come with a black fiber buffer which, in addition to making cards stand out nicely and providing some texture, provides a backing between cards on both sides unlike typical baseball loaders where you have to have the cards touching backs. I used to be pretty opposed to Monster binders, both from their cost ($30 for the 360 capacity) and because their pages are sewn-in. I assumed that was a marketing gimmick to make you buy more of them when you run out of space, instead of buying filler sleeves for the binder. Then I realized it works as anti-theft and anti-break. D-ring binders tend to warp or break over time, and are easy to rip whole pages out of and steal. So it's definitely a trade off, but for anyone who wants to protect that SP Blaster Dark they just pulled, fucking worth it. Look at it this way: if the contents of the binder is four or more times its price, you're doing good. The Monster binders are extremely durable, shock resistant, and wear gracefully over time. These are binders you buy to keep. There are a few 4-pocket versions, but I don't consider those worth the high premium cost unless you go the whole nine yards and grab the 9-pocket 360 capacity books.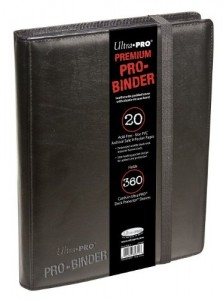 In the same vein, is the Ultra-Pro binder. I've gotta say, they did a really good job here. They have the same capacity as a normal-sized Monster binder but at 2/3 the cost for $20. Same features too. If you like leatherette or matte, you can get them in both (and the matte is actually only $16). They also sport an elastic band which does in fact help prevent it from opening on its own.
Overall, these make great cheap versions of the Monster binder style, though I do have the one bone to pick: they're slightly less durable over time than a Monster binder because of the lesser quality materials (even the leatherette) which means that this is a great starter binder, but you might eventually want to "buy-up" to a better one later. Not that this binder isn't great, it just suffers from Ultra Pro's typical problem of not lasting over time. If you're considering any brand's 4-pocket, just look into the Ultra-Pro binders instead since they're usually the same price but contain far more storage.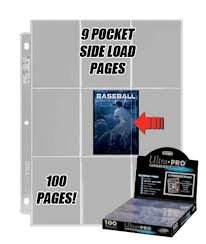 There are some really nice budget options, in case you were sweating bullets as you read this. And the cool thing is, you don't really have to settle for lesser quality, at least not in the sleeve department. If you have a generic 3-ring binder at home, you can simple fill it with 9-pocket loaders. The best solution is if you can grab your school binder from college (or high school) and slip some into that, because those generally have zippers which work as a nice anti-theft and anti-falling-out-everywhere device. Though remember that with more moving parts comes more ways to break:
D-ring and 3-ring binders tend to break easily over time and zippers can become stuck or broken. Don't go buying a school binder for card gaming specially, they're the same price as the Ultra-Pro binder that's actually made for the job ($16-20) and won't do as good a job. What you'll lack in security using a normal binder and pull-out sleeves, you'll make up for in cost. The sleeves to the left cost $21 for 100 sheets! That's 900 goddamn cards. Though you'll need to at least put them in sleeves since they'll touch back to back (I recommend that no matter what binder you choose, though). Ultra Pro also makes some that are the same cost but for 50 sheets, however, you get the nice black fiber backing on each side so the cards are separated and have secure texture. I highly recommend those even on a budget unless you actually do have more than 450 cards you need to store (keep in mind, that's more than the UP binder above). The important thing is this proves you can get secure side-loaders without a premium, though you might have to replace the binder before too long. But unless you just have a massive collection, it's probably still more cost-efficient to just get the Ultra Pro binders.
Card Sleeves
I've saved the most important for last (unless one of you gets all mad at me for not reviewing carry cases). Like all the other sections, I'm only going to review sleeves I've actually gotten to use myself, so even if you like [insert obscure company] it might not be on here. I want to state that I won't be mentioning any standard sized sleeves here. Vanguard is mini-sized which is hard to find as it is, without cluttering up the page with unnecessary incorrectly-sized products. The TCG supply industry needs to get up off their lazy asses and realize that Magic is not the only game in existence. To that end, I'll be laying out the sleeves from various companies and giving my idea of how good they are. Key factors are durability, longevity, protection, legality (if they're cut wrong, you can be disqualified), count, and price.
Count is very important because Vanguard is not as popular as Yugioh. With most YGO decks being 40 cards, companies feel safe giving 50-count mini sleeves. Unfortunately, that means Vanguard players get the shaft if even a single card breaks! We have to buy doubles of those packs just to prevent getting disqualified mid-tournament. For this reason, I highly suggest always having a set of backup sleeves and a set of cheapos you take to tournaments (like $3 or less). This means that even low-quality sleeves can be recommended as long as they are cheap enough to be expendable. Also, you never know when a judge will think your sleeves are cut wrong, so keeping a backup along with your fresh sleeves is a great idea. Now, fresh sleeves for every new tournament is probably not doable for someone just going to locals every week, but you should do this for big events. The more expensive, longer-lasting sleeves should go on your weekly tournament decks.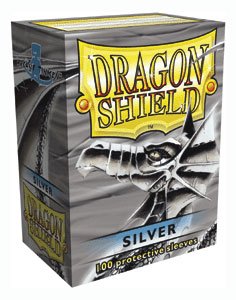 I'm going to start with Dragon Shield first. Okay so the image to the left is for standard sized sleeves, but god dammit, mini-sized Dragon Shields are rare! I would say that's my biggest, and almost only, complaint about Dragon Shield. Otherwise, they're extremely durable and highly resistant to damage. Most of my experience is with the standard size and those are amazing. Cut perfectly, great welding job on the sides (where they glue the two pieces together), feels solid but pliable, doesn't split easily, and has lasted for several years now. They give you 120 sleeves in a $10 box, which is a pretty good deal for the quality.
But like I said, this is for mini sized sleeves. I've actually only had one set of those and they each cost $6-7, and only come in 50 count. The price isn't bad at all—most mini sized that are good quality are six dollars. The count is annoying, but manageable since you probably want more than one set of these bad boys anyway. They definitely feel different than the standard. More like latex. Unfortunately, I think I got a bad batch (and I've heard similar complaints) because my sleeves were cut improperly (too short, and uneven), and that would get me disqualified. They also tended to split more readily than their standard counterparts. Maybe minis don't really have this problem in general, but mine did. Dragon Shield are otherwise top tier sleeves. Some people complain about the "slipping", but that's just a side-effect of the static and air they generate when they're new. Just keep pushing them down and before long, they'll work fine. Dragon Shield also only come in smooth backs, not matte finish, so keep that in mind.
Now, before I tell you "Ultra Pro sucks, fucking avoid them", let me clarify one thing: Ultra-Pro is schizophrenic. Seriously, what is up with this company? All of their different types of sleeves feel like they're made by entirely different factories, and they may be for all I know. Ultra Pro ranges in quality from "kill it with fire" to "good". I don't know how that's even possible, but apparently it is. Unfortunately, the shitty UP sleeves are the ones permeating every local game store …ever. I would normally support buying from LGS but you guys need to let owners know you want something better, else, take your business to Amazon.
The normal Ultra Pro Deck Protector matte sleeves (NOT the one pictured to the right) are dogshit wrapped in rat shit drowning in liquid cat shit. And they're still not the worst sleeves I've ever used. The welding is complete garbage. You can actually see the glue globbing out and the melted plastic wrapping around the edges. They split like a prostitute's legs at the gentlest shuffle, and have therefore resulted in the disqualification of many of my friends. The smooth UP sleeves are actually really durable and rarely ever split for some unknown reason. As for those, they are on par with Player's Choice, but the clear side of the plastic does tend to warp and expand over time. The "Pro-Matte" that you see on the left is actually their best sleeve product. This is the only one I can recommend in good conscience since they all cost the same fucking amount. Roughly $3-4 for 50-count. Unfortunately…50-count. So there's that. The Pro-matte, while much better than the average UP product, is merely "competitive" with other brands. It doesn't come anywhere near something like Legion or Dragon Shield standard in terms of durability. No matter what you buy, you're pretty much gambling on a shitty cut, because UP products tend to be inconsistent. Oh, and UP, you're the only company I know of that still puts a stupid branding sticker on your sleeves. Stop that shit.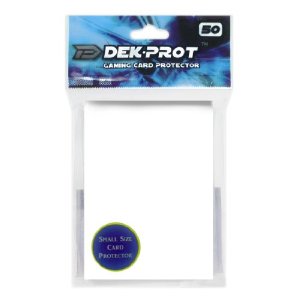 Remember how I said there's something worse than the low-end UP sleeves? It's these. Dek-Prot. Every single thing they make is crap. It's like they're the Aristotle of TCG Supplies. If Max Protection didn't exist, they'd be the worst card supply company I've ever seen (but at least Max has the leatherette deck boxes that are nice). Dek Prot sleeves, aside from the company name being spelled by the CEO's four-year-old child, are 50-count as usual, very prone to scratches, which UP and Dragonshield are not, and have this bizarre ass-tastical welding that I don't even know if I can describe.
The layers of the sleeve plastic are laid straight on top of each other with no beveling or anything. So if you try to mash shuffle them, they just jam into each other (and split half your sleeves). Oh and they split in strong wind. These things have no constitution and no longevity. Fucking bizarrely: they have the best cuts I have ever seen. Ever. It's like they spent all of their factory costs on a cutting machine and none into actual quality material or a competent process. They're cheap, at $3 a pack. But since you know you're going to break at least a few (all) of them, you have to buy two packages which comes to the same price as one pack of actually good sleeves that don't suck. Just buy those. There's no excuse to ever buy these since Ultra Pro exists.
Player's Choice come next. They're a fairly popular brand and I think the best thing I can say about PC is: they don't suck and holy mother of Loki, 60-count! Yeah so the same price as higher quality sleeves ($6) will get you a 60-count of PC. I'd say that's actually not a bad deal. I have many PC sleeves, and most of them are still kicking. One drawback is that if you want to keep them for the same multi-year length as other expensive sleeves, you'll probably experience some peeling. They rarely split, and it's not like it matters since you have 10 extras to take the place of that card. The only problem with PC is that…well, Legion exists.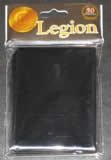 What I want to talk about, on the subject of higher quality sleeves, is Legion. Pretty much everything Legion makes, it makes well. They tend to be high quality and similar to Dragon Shield, but without any splitting and with excellent cuts. I've actually talked to the guy who runs Legion Supplies before, and learned that they do custom runs if you can order several thousand packs at a time. They do come in 60-count for mini, which is amazing since that's the normal $6 for high quality sleeves. If you get the chance, I say take it. Especially when you get the same count as Player's Choice.
This may surprise you but Bushiroad official sleeves are legitimately good. I actually looked into who makes them to see if it was Legion, due to the stark similarities, but alas, I could not find out who. Like all anime or printed sleeves, these come at a hefty premium—anywhere from $8-15! The range difference is because some sleeves are more popular than others, which I guess somehow makes some of the prices higher or lower. Or whatever. Anyway, most of the Bushiroad sleeves are $10 and that's on par with general anime sleeves. However, unlike generic companies or Max Protector, these don't suck.
Max Protection sleeves will warp, peel, split, and wrinkle near the edges constantly. Bushiroad sleeves don't do this, though they do have their own problems. I've seen a few batches of improperly cut sleeves (and a famous case of this caused the wrongful disqualification of a player at the NY/NJ WCQ in 2012). The backs are foiled, which is nice, but it shows scratches much more readily, and the sides are a bit flat, similarly to dek prot. I was only ever careful in shuffling mine so I'm not sure if they split easily, but it didn't seem like they would. These aren't sleeves you get for utility, they're sleeves you get because of the cool design and because it's decent quality for that design. Most other anime sleeves are far far inferior to Bushiroad's.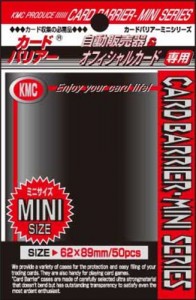 KMC, despite presumably being a Japanese company, seem to mostly permeate sleeves in Standard size. It's indeed not possible in my experience to even find mini sleeves in matte, or any matte colors other than black, white, and red. However, those negatives are the only ones these cards have.
That's right, these are the best sleeves I've ever seen. They did absolutely everything right. The welding is flush and clean, the cuts are perfect, the backs feel sturdy and durable. They can withstand a lot of punishment and last for years. The best part is, they only cost the normal high-quality price of $6. So given all of that, your best bet for high qualities are probably KMC. They are only at 50-count, however, but you'll want to buy multiple of these anyway since they're such great sleeves. I've never seen one split but I haven't owned KMC sleeves for a solid year yet, so I can't speak to that personally.
Hopefully this article was really helpful to you. If you want to see more TCG Supplies be reviewed well…I haven't used them, probably. I only want to endorse things I've used and know are good. Otherwise my word means mud. So if there's something you'd like me to review and put on the site, you can send me the product for my testing. Hop over to the Contact Page and let me know if you want to do that. Before anyone jumps my grill about card cases, I've never used any before. I've only ever used laptop bags and the occasional backpack. So if you'd like to get cases reviewed, I'd suggest considering sending me something to test.
Since getting the links makes doing appraisal articles a pain in the ass, what I've done is set up a little "store" for the future. This way I can add only products that I would recommend (somewhere on the site) and if I do, you can pop over to the store and find it. It'll be powered by Amazon, not myself, so I won't be making direct profit margins from it. Other than a really small commission, it's mostly just for the service and convenience of you guys. You can check it out to the left or in the menu.
Let me know in the comments below what you thought of these appraisals, if you're planning to get any now that you (hopefully)learned some new things about these supplies. And any that you've had experiences with as well. If you have some friends that you think could benefit from knowing more about TCG supplies listed above, use the handy-dandy buttons below to share the article.
54 Comments