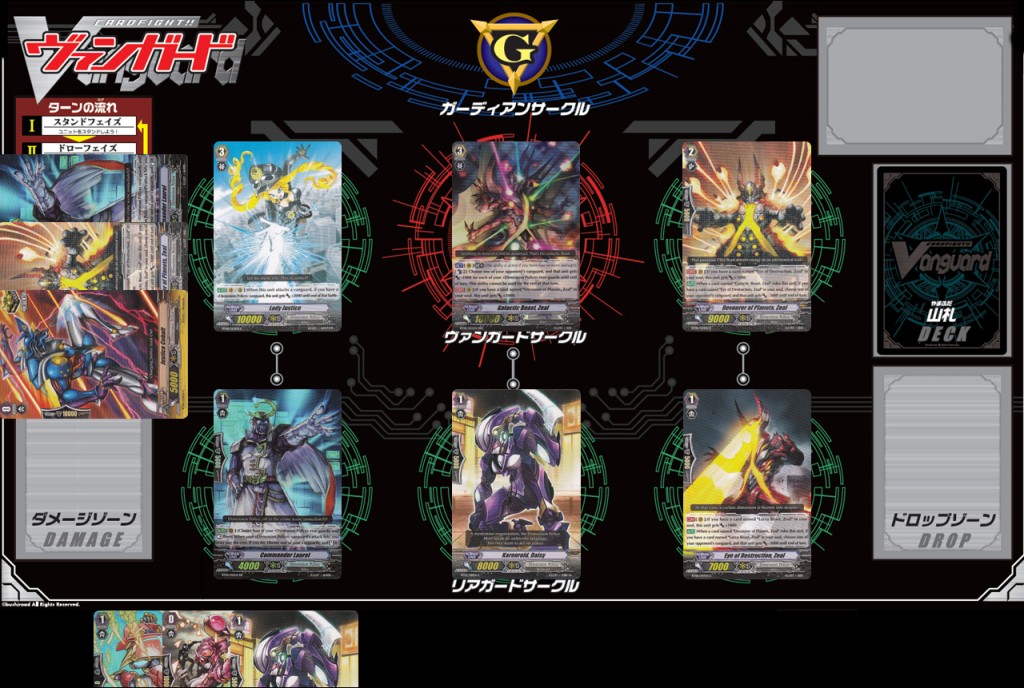 I have  a new video released (finally) talking about optimal Grade Ratio for riding and deckbuilding, then how to framework a deck in such a way that you get a step-by-step logical skeleton for building typical decks. It should help people understand the exact process of deck building in a general way. The narration is a good predecessor to the Deck Construction article, so go read that afterward if you haven't already.
I definitely tried to spice up the presentation from last time (I noticed comments on the quality and was aware of the problem) by improving audio and video quality, adding more visual aids, and improving the Vanguard field to be more realistic and animated. I even had the dang thing digitally animated and most of it recorded within 1 week of posting my previous video (Perfect Guards).
Unfortunately, there were problems. Most of it was recorded when I was sick, since I wanted to get it done. So I have to apologize because most of the video has me with this weird throaty flu-like voice that isn't really me. In addition, I kept coughing and having asthma attacks, so I had to cut the audio into segments and couldn't record in one take (you'll notice the tone shifts as I just got done coughing). And that's also why I get really quiet sometimes because I can feel the lung itch coming on. Because my house rarely ever has peace and quiet to record, I ended up going several weeks without being able to follow up until last night when I got just enough time to finish recording but not re-record the sick parts. Apologies again. Anyway, it's up now and I hope you can enjoy it for what it is, at least. The not-sick part starts around the time I discuss 11000 Power defense.
---
In other news, it's been confirmed now that Bushiroad will release BT-11 before BT-10, now in October and BT-10 in December, citing "production reasons"; which literally no one in the history of never actually believes. I'm pretty sure we all know it's because Dragonic Descendant ruined the entire game for Japan and it had to be restricted within its first official tournament. Way to go. So now, we get to wait all damn year for Spike Brothers which makes me sad. However, this does mean all my tests thus far have been completely wasted! Hooray. I'm in the process of re-working some things for BT-11, notably the Genesis deck which will no longer be stuck with BT-10 only units by the time they're legal. However, there's still some ground to cover with Extra Boosters and Trial Decks before I jump on BT-11, so please be patient.
The store I started running with my recommended products has become a pretty good success with many dozens of people finding this a good service. I hope that continues.
Until next time.