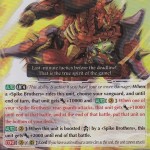 Hey everybody! I finally found time for an off-the-cuff video after work. It actually ended up being pretty long since I decided to show the deck and explain a walkthrough for it. If you're interested in seeing my personal tournament deck or want to run Bad End Dragger effectively, I highly suggest you take a look at this. If you're curious as well!
Leave me a comment if you found this useful or interesting. Be sure to share it with others using the buttons below if you think they'd be interested or get anything out of it.
Of course I apologize for the crackling and the lower quality than is desirable. This is a systemic problem with my mic and cam. Of course, recording it in HD uncompressed made it look and sound great, but the video cap software I decided to try just kills itself. Sorry about that!