Digimon Battle Evolution is a Digimon card game for two players made by me. Based on the Playstation 1 title "Digimon World: Digital Card Battles" with several changed and updated rules, many altered cards (plus new cards) and completely new game features and concepts. Pick a powerful partner Digimon that easily evolves. Play a deck containing any of eight types of Digimon, or mix-and-match types.
Each player will send out their Digimon, evolve, and support them with their own cards. The Digimon battle until one player achieves 4 KOs! Digimon Battle Evolution is an Expandable Card Game, (ECG) and is free for life. Several expansion sets are currently planned.
Download & Play
Currently the game is completely finished. Organizing a printable version of 300 unique cards (with different printable counts) is quite difficult and has not been completed.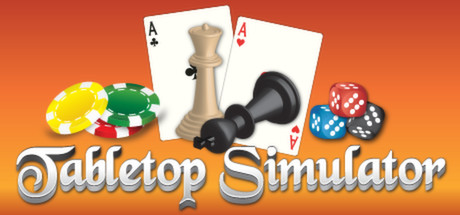 TABLETOP SIMULATOR MODULE:
http://steamcommunit…s/?id=710666368
Or search "Digimon Battle Evolution" in the Steam Workshop for TTS.
If you are unfamiliar with Tabletop Simulator, it is a software purchasable on Steam that allows modular tabletop gaming. It's pretty cheap and I urge everyone to get a copy, not the least because it will be required to play Digimon Battle Evolution with VMundi players online (it also can play Magic the Gathering, or just about any tabletop game you can think of).
This module comes with a two-player setup ready to go. One side will take control of the partner Agumon and the Dragon deck. It fights ferociously, showing no mercy with increased power. The other side will partner with Gabumon and the Nature deck. It fights tactically, trying to keep its health up and win a war of attrition. These decks are tested and balanced against each other, while also serving as a jumping-off point for players to construct their own decks.
The cards for construction are sorted by type and are fully searchable! The base set features 200 different cards to get started.
Get it on OCTGN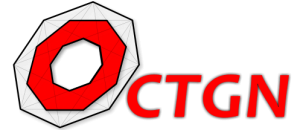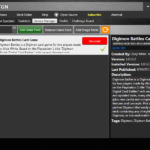 OCTGN is a card game simulator that's fully free to download. It's a pain to develop for (many reasons), so this may not always be perfectly up-to-date. For this reason, always go by the Erratas page and the actual card images, not just the text files.
Getting the game on OCTGN isn't as simple as downloading and installing the software, because nothing is ever simple. Follow these steps:
Download the OCTGN program for Windows: https://www.octgn.net/Home/GetOctgn
You don't need a user account for peer-to-peer, but you can create one if you wish.
Go to Games Manager ▶ Add Game Feed (see thumbnail above)
Name it something like "VMundi" and paste in this feed URL: 

https://www.myget.org/F/vmundi

Press "Add" and then either scroll down to "Digimon Battle Evolution" which should show up in your new feed list, or use the dropdown and change to "VMundi"
Press "Install" and wait a while. The package is around 150MB at launch (card games = images), but will grow over time.
OCTGN Caveats:
Like TTS, we don't currently have a way to deck-check before you get to the game. So you'll need to operate on legality honor system. See if you comply here.
OCTGN currently has no scripts. This means doing Trashing/Recycling and so on by hand.
It can use filters and advanced searching! For this reason, it's recommended even if you prefer TTS, since the deckbuilding is more fluid and streamlined.
It may break from time to time. To submit a bug report, please use the Contact Form.
Rules
The rules are included with the TTS module, but may also be read on this site,
Read the rules
Digimon Types
There are eight Digimon types: Dragon, Jungle, Marine, Metal, Enigma, Wind, Nightmare and Nature. Each one seeks to introduce unique mechanics as well as use some global mechanics (or borrowed mechanics at less potency).
Please leave questions and comments below. Technically you could print them all since the cards are in those galleries. If you do, set to CMYK and 300DPI. Should be the same size as Standard (Magic the Gathering) sleeves.