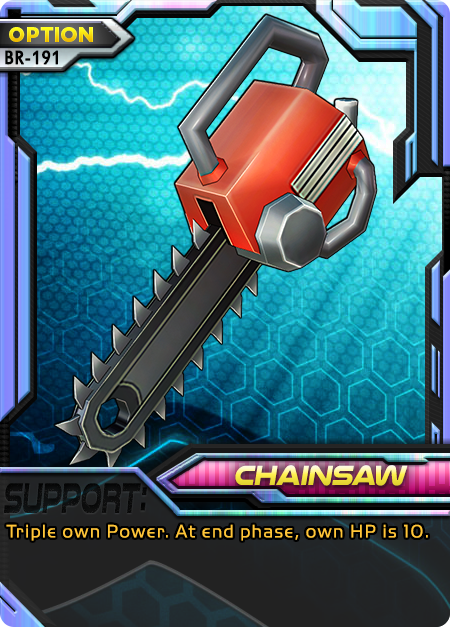 Chainsaw. An Option played in the Support phase that triples your power. Then after the battle, if you're still alive, you go straight to 10 HP.

What's good about it: What's great about this Option is how it really helps come back from an absolute pummeling. Especially if used on the opponent's turn, so you go into your own turn ready to evolve and heal yourself back up.

What's bad about it

: It's essentially useless with a Drain ability since the 10 HP occurs at the end phase, and doesn't work at all with Crash or Counter, but few things do. Meaning Chainsaw is for playing it straight: using , or an attacky-.

Tips

: You can get massive numbers if paired with a that has "x3 VS", which will sextuple them. If used like this versus a Mega level, you can earn 2KOs for the one you will inevitably lose. Securing a dominant position with Chainsaw can only be done if it's your opponent's turn when you play it and you can evolve next turn. Otherwise, you're just setting yourself up so they can knock you down.