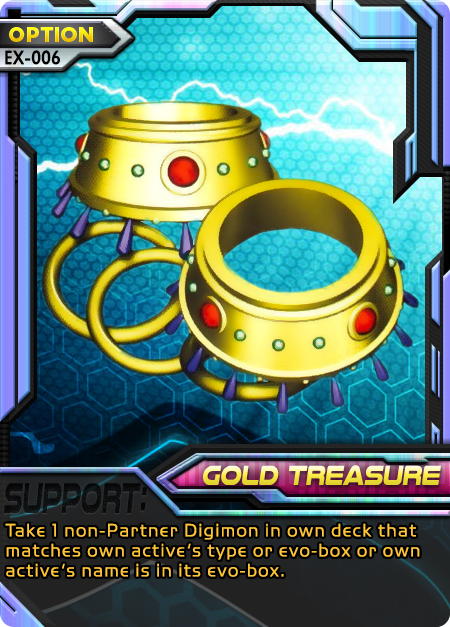 Gold Treasure—A Partnerable Option that helps you get Champions and Ultimates from your deck.

What's good about it: Gold Treasure can fetch you a Digimon for evolution; or you can be cheeky and use it to toolbox supports. The card you search can be one that either has your active in its evo-box or has some card you reveal from hand in its evo-box. The reveal isn't forced—you don't have to give up any extra info to your opponent if you only need something that comes from your active.

What's bad about it

: This card is a utility card, it helps you for the next turn, not this one.

Tips

: Gold Treasure can let you run a wider variety of Champions and Ultimates in your deck and toolbox them for support and evolution box effects. It's also really helpful for setting up DNA evolution for Ultimates. You can also do really weird things with some of the less-orthodox evo-box names like "Whamon". If you have the Ultimate Whamon in hand or on active, you can search the same card! If you want to hedge your bets and you have set this as a Partner Option, use it on a Rookie with a good immediate effect: "Renamon" has a void effect that can come in handy when you need something now, while Gold Treasure can set you up if you're fine.