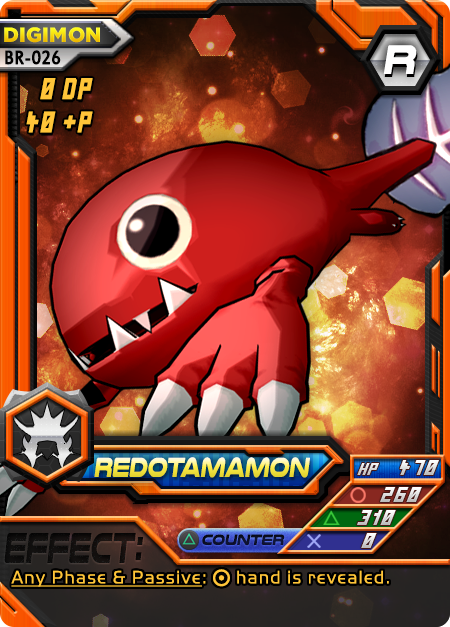 RedOtamamon—the only "+40P" in the game thus far.

What's good about it: RedOtamamon gives +40P—double the average Rookie. Its effect is small but useful: looking at your opponents hand can help you chose attacks, future supports and determine whether it's the right time to use any "Activate" abilities you have. It is also outside of support phase so good luck voiding it.

What's bad about it

: RedO's ability shuts of your support for the turn, so it's harder to use the info you get. His body is terrible, though if you're actually attempting to use this in , Rookie bodies don't matter much to you anyway.

Tips

: This card is well suited for fast evolve decks; 40DP with get you to majority of Champions and Ultimates in the game. Its effect helps when you're ahead, letting you leverage the information you gained to stay there (one turn late). Evolution cards like "Warp Digivolve" and "Hyper Digivolve" help the 40DP from RedO take you much farther.