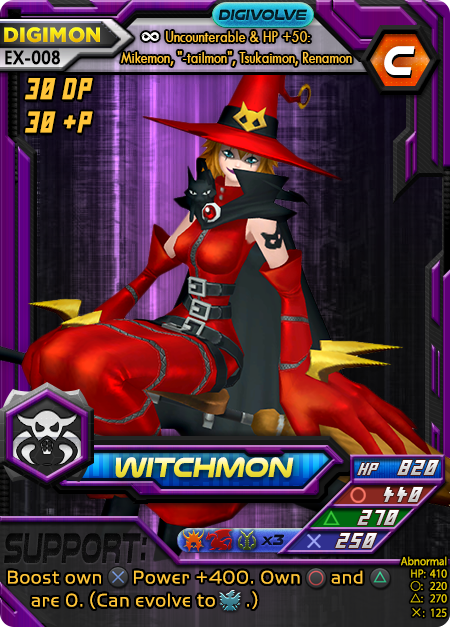 Witchmon is a  Champion that Boosts Power and can evolve to types.

What's good about it: " to zero" is one of the rarest abilities in the game—it shuts down Cross-reliant Digimon and strategies like "Drain", "x3 VS" and "1st Attack". "Attacks cannot be countered" is powerful and not found on any other champions, so far. +30P is higher than average, helping speed up evolution. Evolving to  type lets you play "Angewomon" for "Mastemon" decks, and other / crossover decks.

What's bad about it

: It's not fully , so it can't evolve from . Witchmon's support reduces both and to 0, making top-deck supporting risky.

Tips

: This card is a tactical choice for your Destiny Zone If your partner is BKGatomon. Witchmon's support ability plays well with Cross abilities like "x3 VS", "1st Attack" and "Drain".