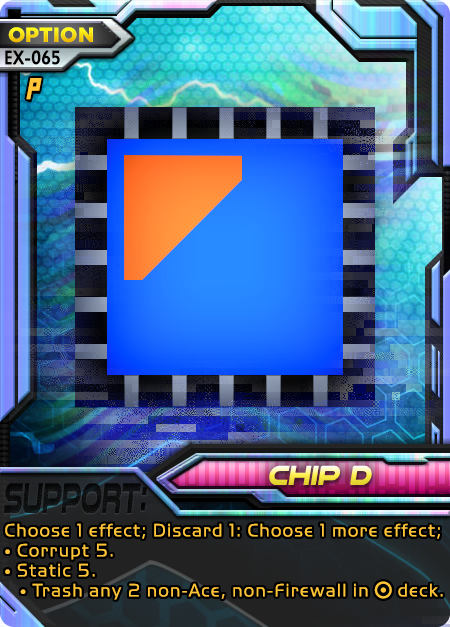 Chip D—pure card manipulation of both players decks.

What's good about it: Chip D lets you know what cards are coming and set-up your deck a little: Recode means you get to look at that many cards from the top of your deck and put them on the top or bottom. "Chip" named cards will become searchable by effects in the upcoming Data Breakers set. You also get a heavy control over your opponent's deck with Corruption—an effect that lets you seal the opponent's top two cards in the deck back down or to the bottom.

What's bad about it

: This card is a pure set-up card (it gives you nothing substantial when you play it.) It wont help you when you're behind. You need to be keeping up with your opponent and wait for the right opportunity to play this.

Tips

: Chip D is good when played with powerful trash-cost effects like "Mega Chip" and "Dark Wings." These cards help both by giving you trash to work with for the "recycle any 2", and by giving you a very powerful effect to make up for this setup card. This can be a heavy advantage-maker when paired with other Recode/Corrupt effects, ultimately filtering one or both decks into oblivion. "DB006" and "DB007" let you make a Chip-based deck that uses this card heavily for consistently obtaining various Chips.