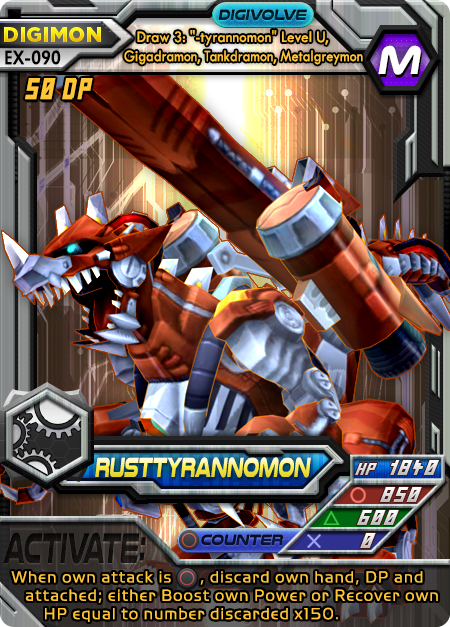 RustTyrannomon—A Mega with a huge potential power boost or heal.

What's good about it: The "Activate" effect of RustTyrannomon happens when attacks are revealed—on either player's turn. The +50% multiplier gives you a huge boost to either Power or HP, whichever is most needed at the time, which makes this a tough card to overtake.

What's bad about it

: You have to use —the easiest attack to stop in the game. RustTyrannomon's own ability is rather dull (most of the time Counter on a Mega is worse than using your other attacks). You have to discard everything; your hand, your DP, and your attachments, which is a huge price and will cost you the game if used flippantly.

Tips

: It's best to use RustTyrannomon's "Activate" as a threat, not a promise. Once it's used, it's done and your opponent just has to adapt but until then, it's still formidable. Evolution cards like "Super Tag" and "Digivice" leave your DP alone, letting you charge Rusty like a proton cannon. Cards that allow you to easily support from the top or draw extra cards can keep your hand high without giving up supports. The card "Training Manual" is good both the turn you use his ability, and the turn after.

Always try to see if there's a way to threaten a one-hit-kill with him first, make your opponent outplay it, then just boost your power some other way. HP gain is usually the best and safest option and can allow you to replenish your hand quickly, which can surprise an unprepared opponent. Try to see if your opponent has any cards that force discards such as "Scummon's Curse" before committing the activation or you may find yourself using a weaker cannon and have an impossible time recovering.