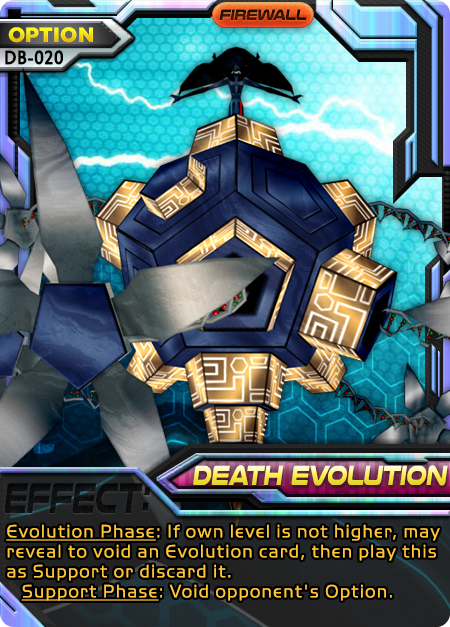 Death Evolution—A new firewall and stops Evolutions in their tracks, and maybe an Option.

What's good about it: It has a very rare ability: the power to be played during the Evolution Phase and void an Evolve card. On top of that, it can also stop an Option card later in the Support Phase, if you choose. If your opponent has no way to play around it, this can be a hard one-two combo that floors them. What's bad about it: Overall, it's less powerful than other

firewalls

such as "Cherrymon's Mist", and isn't for every deck. You have to make the decision to Support with it during the Evolution Phase, which can give your opponent enough information to play around it. Since it can only void Options, this gives it a more limited scope and the opponent might have wanted to support with a Digimon (or not at all) anyway. Tips: Those precious 3 Firewall slots have to be thought through carefully. What can you really use? What synergizes? What can you re-use? While it technically can be played around, let's not underestimate the power to buy a turn by stopping an Ace from even being played. Also, if you have no Evolutions to void, you can always play this in the Support Phase regularly, which gives you flexibility. If you reveal to void an evolve, then discard it on purpose, there are ways you can re-use it later via recycle or similar.