Along with some emergency-erratas taking place after the launch of Data Breakers, we're bringing two new Promo cards that will be legal for play and available on both Tabletop Simulator and OCTGN: Dukemon and Herculeskabuterimon.
Originally, these cards were slated for a much later set release that would likely come out at the end of the year. Instead, we're moving them up since they're fully ready for play and to apologize for the mini-errata coming soon, as well as the lack of COTDs. Those COTDs did have to be put on hold temporarily however, since much of our attention has been diverted attempting to convert Alsciende's NetrunnerDB into a DigimonDB, as well as other side-projects. For now, we're shelving it since it's eating up too much time and should return to COTDs and design shortly. Without further ado, here are the new cards!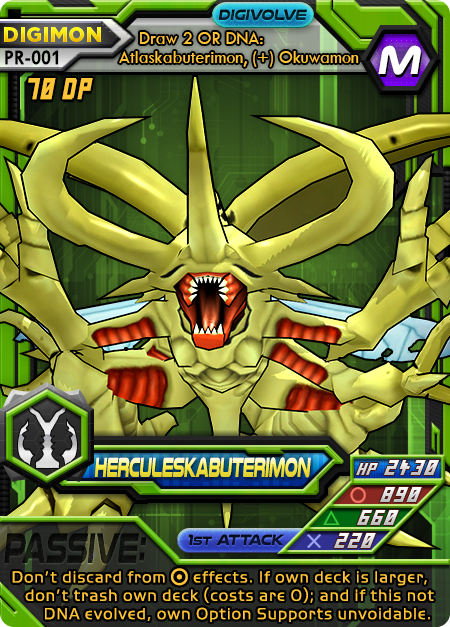 These aren't being released as part of a specific set. Instead, they are numbered for the "PR" or "Promo" pool of cards. We've had promotional cards before, but they were always previews of upcoming sets. This time, we're starting a promo pool so cards can be released in-between sets, especially ones that would be nice to have in the game but won't fit within the parameters of the next set.
These aren't really an apology and were going to be released anyway :)