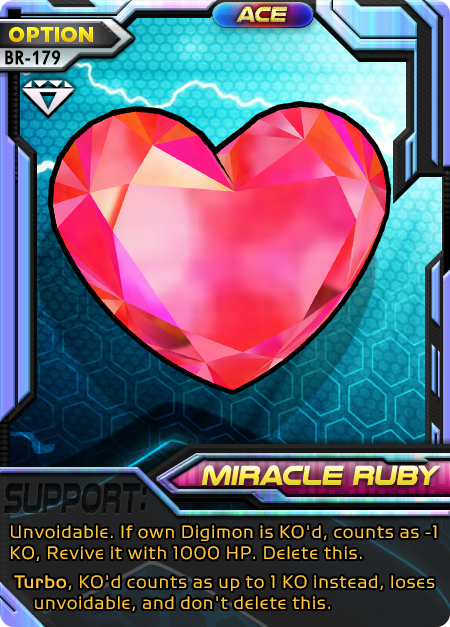 Miracle Ruby—Are you ready to evolve?

What's good about it: "M" is for "Miracle" and "Multi-use"—you can play this as a normal support to get a phoenix effect, which doesn't let the opponent have a KO. But you can also choose to "Turbo", which means play this Any Phase with a couple of modifications: you don't delete it and it counts as 1 KO as normal. You get to pick based on the situation whether it's better to give up your support for the turn or not, depending on how far ahead the opponent is in KOs, so this is never dead in hand just like other Aces. What's bad about it: If 1000 HP would've saved you a KO, [card img="https://www.v-mundi.com/wp-content/uploads/2016/08/004-Gold-Mushroom.png" name="Gold Mushroom"] is arguably better (an ounce of prevention beats a pound of cure). On that note, [card img="https://www.v-mundi.com/wp-content/uploads/2016/08/071-Mystic-Seal.png" name="Mystic Seal"] is better if you would use Ruby for its Support-speed effect in most situations, since by virtue of not dying, Seal still allows you to attack (plus void something). Not every Ace gets deleted, so good luck finding an abusable combo for this. Tips: Here's the thing, you're supposed to use the Turbo version. It doesn't delete itself (since no KO reduction happens), can be played any time so you're not giving up support, and has a secret hidden inside it—counting as up-to 1 KO means using this out of nowhere with Level M gives you an unvoidable way to keep it fielded, while still counting as -1 KO! Gold Mushroom, Mystic Seal, and the like aren't borderline-unvoidable. The only way to void this card when Turbo is [card img="https://www.v-mundi.com/wp-content/uploads/2020/11/014-ClownTrick.png" name="Clown Trick"] and that's likely to just give you the card right back again, so you can still use it later; plus it's a pretty rare situation to see. If you know they have Clown Trick, try baiting them to waste that void before they know what Ace you're using. Since you're not giving up that support, you can still play something devastating and offensive for battle, or just grab some delicious utility from [card img="https://www.v-mundi.com/wp-content/uploads/2016/08/197-Training-Manual.png" name="Training Manual"], especially if it fuels an Any Phase saturated deck. This is also a really weird and situational counter to [card img="https://www.v-mundi.com/wp-content/uploads/2020/10/012-Soulmon.png" name="Soulmon"], since your opponent is only likely to use it when you'd be KOd and you can throw this in during the first step of the Battle Phase to ensure no response play from the opponent—again, it counts as -1 KO in that situation too. Don't forget revived Digimon never count as more than 1 KO for any reason, so this permanently sets your Level M to 1 KO.

Any situation where KOs are worth more than 1, the Turbo version of Miracle Ruby is amazing. Weirdly, you can use the Turbo version very well even with the same Soulmon; since you can't guarantee Grudge is going to work or even be your best response that turn, a Turbo Miracle Ruby will act just like the regular Support version and give up 0 KOs due to its evo-box! With a little recycle…well you know. If you use the fact that you will appear to be cornered on the turn you Turbo this card, the opponent will select a strategy accordingly, play a support accordingly, and then be completely surprised during the first step of the Battle Phase. Because of this, Miracle Ruby is paradoxically better with decks that have some way to threaten the opponent's attacks, such as "Counter" or "to Zero", since they still have to account for your will to live (they don't know you're fine dying). In any case, that most likely means they have to support in order to get the last bit necessary to KO you, without knowing what lurks in your hand. This effectively also makes Miracle Ruby a void card, since opponents will want to play power gain to get a KO, only for you to utterly negate that no matter how much they gained. Someone using Crash or [card img="https://www.v-mundi.com/wp-content/uploads/2016/08/191-Chainsaw.png" name="Chainsaw"] for such a situation has doomed themselves.

But then it keeps going…if you're not playing a deck with extreme abuse of Any Phase, large amounts of draw, or some way to get to Level M quickly, you still have the option to play this for any of your typical actives (assuming you still have a reason to put it in your deck). It'll be deleted and therefore won't be abusable. It won't be nigh-unvoidable. It won't be unilaterally better than Gold Mushroom or Mystic Seal (or any other similar), but you will still have a Digimon, it will have a good enough amount of HP to survive, and that will give you time to find some other strategy. Interestingly, it's a weird counter for the devastating [card img="https://www.v-mundi.com/wp-content/uploads/2016/08/067-ShiningMane.png" name="Shining Mane"] where any other card that gives +1000 HP can't be, since you won't meet the conditions for its halving. Shining Mane often causes you to seize defeat from the clutches of victory.

Ruby is definitely a card that assumes you'll be on your back-foot at some point during the game. Weirdly, I've witnessed a lot of contradictory things while playing this game. Those two Aces I keep bringing up? They're common to use at the wrong time, especially Gold Mushroom since it gives more HP than people typically use before they evolve again. They don't signal to the player when the best moment to use them is. They're actually too good sometimes. If you're too flexible, you don't have a map for when to play the card. If you can't play Miracle Ruby until you would almost certainly be KO'd, then you can pretend to be a cornered rat and force the opponent to act accordingly, as above. Ruby tends to stay in the hand for far longer, scale to the skill level of any opponent, and vastly change the little subgame of attack selection during the strategy phase. You can even commit to the revival despite not being obvious that you'll be KO'd, by playing it earlier in the turn and forcing the opponent to try and wiggle around it—it's a signal that you're going to use Crash or some other reckless play and they're likely to waste their energy trying to stop it. Since you can just recycle it back, the Ruby isn't even wasted. Regardless of which version you use, it's not as simple as "X card is better".

Why does this whole article seem like a back-footed defense of a back-foot defense card? Because both reveal new hidden truths. The Miracle is Ruby lets you evolve, or stay at your max evolution. I hope this COTD does similar.