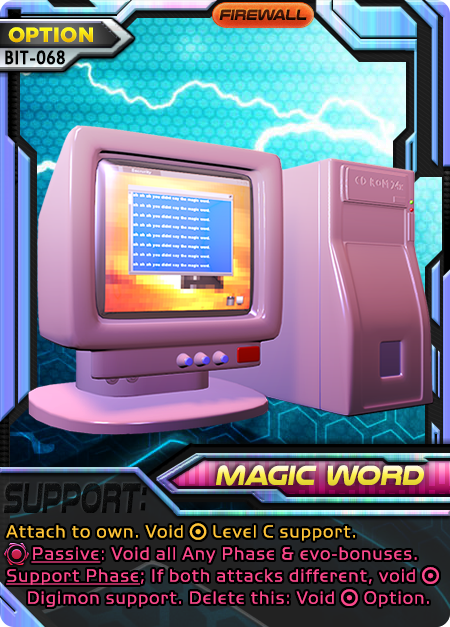 Uh…uh…uh…you didn't say the

Magic Word—A new firewall that stops Any Phase effects and sticks around to void.

What's good about it: If you're good at attack prediction, this card can gain almost endless voiding of Digimon, which is incredible value. Magic Word also heavily punishes decks that use evolution box bonuses to lower DP costs, which can throw off their entire evolution progression. Any Phase effects can be some of the most flexible and hard to deal with effects in the game since they occur outside of normal play. No more sudden use of Digi-Diamond, Kabuterimon, or RedOtamamon, just to name some. They would have to Support with those effects—the Digimon you can continuously void; the Option you can void by merely trashing the Magic Word! Having the ability to trash it at any time to void Options can make opponents play their Options more conservatively, so it's always threatening. What's bad about it: Magic word is a two-edged sword—you don't get to use "Any Phase" or evolution boxes either. Depending on whose turn it is and what your opponent plays, it can be a played around or voided (on initial Support). Suppose you're bad at prediction, or the opponent is better: your Magic Word's usability drops off significantly. This can easily make it worse than any other Firewall. More than one Magic Word at a time is pretty much nonsense unless your opponent supports with an Option so you can trash it. Other firewalls tend to be far more usable one after another. Lastly, Shatter is an attack ability, which this doesn't void, and it gets rid of Magic Word. Tips: Try to keep your "Any Phase" effects to a minimum. DATA cards may still be worth it, especially since you can dictate the terms of when it leaves play to some degree. Try to ensure your own deck doesn't require evolution box bonuses for decreasing DP. Try cards that attach directly from the deck! In this way, Tyrannomons can become extra copies of Magic Word in the deck. Love Crest and Moxie are good for decks that aren't attempting to "double-dip" on the evoboxes, since the deck should be able to evolve fine without them but can get nice bonuses when these are attached instead of Magic Word. "Research" lets you mismatch your attack, guaranteed.