Card Change—Millenniumon DATA is ridiculous!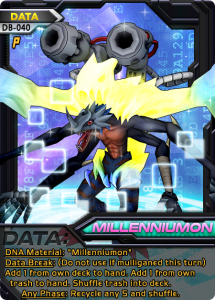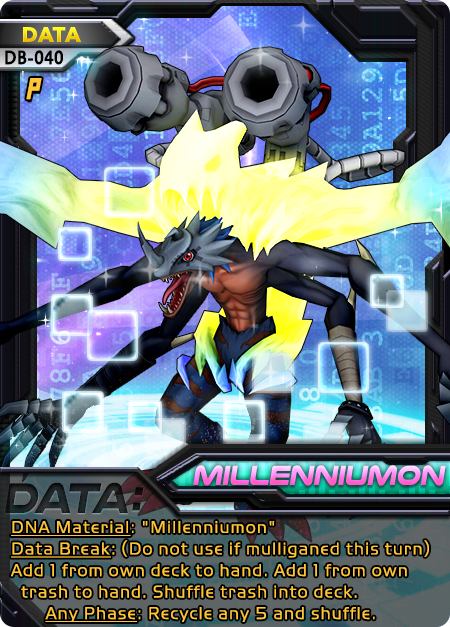 It's time this one had a wee bit of an update. Millenniumon's DATA card has been heavily contentious since its release (and before its release frankly). There's an obvious bug that needed plugged with this little blighter for quite a while. Thanks to user Darkness for motivating me to finally solve the problem :)
The bug: Mulligan your hand until you get this on turn one. Fetch your ACE, Partner, Firewall or any 2 cards that will allow you to set up. Your mulliganed trash goes back into the deck. Your only sacrifice was evolving to Mega, which may not even be necessary if you grabbed [card img="https://www.v-mundi.com/wp-content/uploads/2016/08/168-Download.png" name="Download"] and any Level U.
The fix: Firstly, let's put a stop to mulligan breakage. Mulligans are intended to be risk-reward, at least for a while until you can get some other cards to replenish the deck (provided this is your style). A clause was inserted that you (Do not use if you mulligan this turn). Following that, we double down on restrictions by forcing a player to pick 1 from the trash and 1 from the deck. The whole idea behind shuffling the trash back in before picking was to allow seamless picking from either zone. In this case, we'll restrict access to the cards you want so that you have to wait till mid/late game if you want to get two nice cards for the price of a data-break.
The future: Going forward, will this fix the inherent problem? It's difficult to say. Searching effects are always very powerful in any strategy game. It's appropriately costed as long as a perfect early play isn't possible with that cost (no late-cost is ever enough to equal a perfect early opening in any game). One possible existing exploit is to use repeated mulligan to get this card again, then wait one round to activate it and do something similar to what you would before the fix. Maybe not exactly the same, since you won't have access to 2 from the deck and therefore how much you mulligan actually matters (notably, if this card is later in your deck, you're punished less in this case). However, it can't be denied that this will hamstring powerful opens such as Download+Ultimate, Partner, ACE, and so on. More to the point: this will give an opponent a turn to respond. One of the picks is now visible from the trash and therefore can be anticipated. Plus, they can now aggressively mulligan for their blocking/counter play. Only time can tell if this will be enough to curb the madness of Millenniumon.
If you have anything to add, don't hesitate to reach out and leave a comment!
For those of you who use Tabletop Simulator: the module will not immediately be updated, so please use this post as reference material until then.