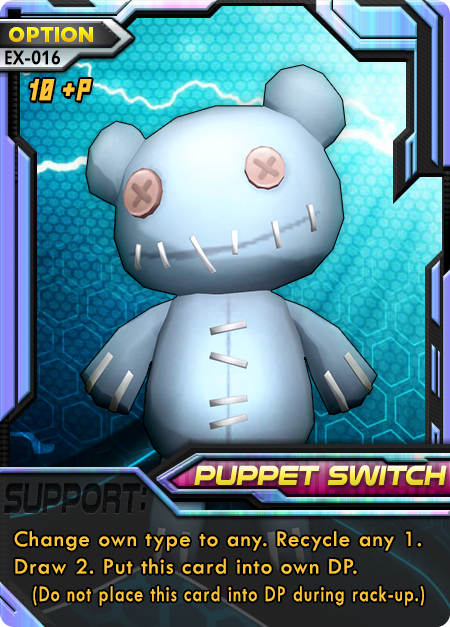 Puppet Switch—Setup your hand and DP.

What's good about it: Puppet Switch puts any card in your trash in your hand. This card is fantastic for reusing powerful cards, and setting up for high DP cost Digimon. Just imagining the possibilities with Ace cards, for instance: you could re-use Warp Dimension, netting you 18 cards of deck damage. Also, since you can change your type, this is usable with an attachment that fell into the trash along the road that your current active zone can't use. You could change your type to Metal and re-use a Miracle crest to suddenly gain support effects outside of Metal's domain.

You can do almost everything Puppet Switch does with other cards, but it always takes more than one card (and therefore turn) to set up these sorts of scenarios. This is a high-value card that can give players a host of new and unexpected outs. Most opponents wouldn't consider a clutch Puppet Switch when playing out their turn. The fact that it gets back cards like evolutions or Digimon that were paid into DP means you can get insane DP value for later evolutions. Example: rack a Redotamamon for +40P, evolve, support with Puppet Switch and get back the Redotamamon, then it gives you +10P. By your next opportunity to evolve, you'll have a guaranteed 50P and a net card advantage of +0. Lastly, a deck with x3 VS against your type can fall apart if you change your type away (plus you'll net some sweet cards and DP out of the deal).

What's bad about it: This card can't be charged into DP normally—you have to play it as support to get it there. If you're not set up for multi-color, you lose one of its effects; and if you are, you need a tight evolution-box line. Tips: If you're looking to reuse specific cards in your deck, Puppet Switch is a good universal way to do it without splashing into Jungle or Enigma. In fact, Puppet Switch is a good way to unlock the potential of your existing cards and therefore provides good universal synergy. Many games can come down to a well-timed Ace play that doesn't get voided, so Puppet Switch on reusable Aces can give you the edge to win.